I will never forget that Christmas. My parents had to send to England for my present and it didn't arrive until the very last minute, but it was worth it. My Wonder Woman costume! Wonder Woman was my idol as a child – she just burst onto the screen, taking on the bad guys and making the world a safer place. As the youngest in my family, with this outfit, I now held the balance of power! I tied my siblings up with my golden lasso and used my cuffs to ward off any stray bullets.
There were very few examples of female superheroes when I was growing up (apart from my mother, obvs). Or just regular women with agency, whose role didn't revolve around supporting the men in their lives. Apart from Jessica Fletcher, that is, who kept the scum off the street in Cabot Cove, AND she was a writer! But I think women of my generation have been hungry for new female characters we can really get behind and right now we seem to have, well, maybe not an embarrassment of riches, but certainly a good crop.
Killing Eve, in which an MI5 agent pursues a Russian assassin (who's also a bit of a psychopath) is the most compelling show I've watched in a while. Described as 'a feminist retort to a traditionally macho genre', it has been an instant hit – as though the world was waiting for it. It features highly professional, intelligent women who are funny, normal, obsessive, strong and vulnerable and a million other things. Based on the novella series, Codename Villanelle, it's a fresh perspective on women that never resorts to stereotypes.
Good Behaviour is another show I became completely addicted to, featuring actor Michelle Dockery who took on a role that could not be further from her prudish character of Lady Mary in Downton Abbey. Also based on a novella series, the Letty Dobesh Chronicles, it features an antihero protagonist who is a thief and a con artist with a serious drink problem. Letty is clever, spontaneous, volatile, destructive, hilarious, creative and loving. And she enjoys the most amazing sex! And it's not all about the man's pleasure. Again, the stereotypes have been pushed aside for a warts and all version of a woman trying to survive in a world that likes things in black and white. Bad women are cast as 'fallen women' or 'whores', while good women are cast as 'virginal madonnas'. For some reason, the world has a hard time seeing women as both. Or neither.
While it has also been made into a movie, The Girl With The Dragon Tattoo first came into my life on another snowy Christmas. I was stuck in bed with a cold and read the trilogy back-to-back. I was riveted by this strong, fiercely capable young woman who refused to play by society's rules. Lisbeth Salander is no role-model and that is where, I believe, her popularity lies. She doesn't seek approval and simply does as she pleases. She's not afraid and exacts her revenge with a cold ruthlessness. She seeks justice, for her own past and for the lives of those who have been harmed by violent men.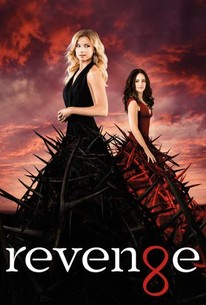 Another show I became obsessed with a while back was Revenge – a story about a young girl whose father was wrongly accused of a crime and as a consequence, she spent her youth in care homes. Loosely based on The Count of Monte Christo, Emily Thorne plots her revenge and comes back to the wealthy community in the Hamptons that wronged her father with a new identity and lots of money. It's all very glamorous and overly-dramatic, but the theme is the same – strong women with powerful voices. Women who refuse to be silenced. Women who do not fit the traditional roles in a patriarchal society. And we're hungry for more.
And guess what? All of these incredible female characters were written by men (although Killing Eve has a female script-writer). How heartening it is to see men writing women who are just as deserving of the starring role as men. After decades of watching the idealised version of womanhood on screen, filtered through the male gaze, we are now seeing women represented in a new way. We want to see all the facets of ourselves, we want to see ourselves overcoming the system but still coming home and putting on a pair of comfy sweat pants. And while powerful female characters are important for girls/women to see, they are important for boys/men too. Men need to see women on the page or on screen, being people first, women second. They need to see women whose lives do not revolve around relationships with men, or having children or looking beautiful.
In a time when we still have Barbie (yes! Barbie) ads with a blonde stick insect enjoying her new plastic kitchen, making a sandwich and fries (who for Barbie? it's not like you're going to eat them) and telling young girls in a sickly, saccharine voice, 'you can be anything you want to be!' swiftly followed by an ad for a Batman toy that lets you capture all the baddies and be a hero – WE NEED THIS! If she can see it, she can be it. If we put women in the starring role, we teach our kids that they can claim that role in their own lives.